It is just as the Scriptures say,
"What God has planned
    for people who love him
is more than eyes have seen
    or ears have heard.
It has never even
    entered our minds!"
If you're thinking… JoyDay! on Saturday? …I totally get it!!
First… I need to come clean with you.
Since Christmas, I've been struggling physically.  I won't say what because I refuse to own it… but I've had too many sleepless nights and have just plain struggled to have enough energy to get through the day.  Essentially, things have gotten way behind.  Photo shoots have been done, but late.  The writing portion of the posts for which those photo shoots were done was slow in happening as well.  And that brings us to Sunday's post on Saturday.  Finally.  I appreciate your patience and prayers as I move through this temporary season of herky-jerky posting more than you'll ever know.
Second… having said all that… I have some good news!
Last week I began seeing a new chiropractor and I'm getting help.  His methods are different.  I'm so grateful that God does not restrict his healing to standard Western medicine.
Third… there's more!
For quite some time now if you had asked me what I was dreaming about I would have told you that I don't have any dreams, other than being able to buy a house again.  That's not really dreaming.
This week I started dreaming… real dreams… big dreams.  Seeing potential and possibility in ways I haven't in several years.  This is totally all God.  
I have had a sense that God is moving in big ways… but not so much in my life.
Today I can say that God is moving in my life too! 
I believe that I am in the process of receiving a new healing.  He's sharpening my vision and purpose for the days ahead and I'm excited.  The last few days I've awakened with a new sense of anticipation for what's ahead.
For years I've believed and prayed this verse…
I alone know the plans I have for you, plans to bring you prosperity and not disaster, plans to bring about the future you hope for. —Jeremiah 29:11
often for others… but for myself too.  God is opening my eyes to seeing him appropriate his blessings in my life and in the life of some very special friends.  It makes my heart dance with joy.
The "network news" may be filled with doom and gloom… but God is at work and moving in a BIG way! It's exciting for me to see and hear what he is doing.  Are you seeing it too?
Are you walking through a tough spot?
My journey was hard and challenging for too many years.  I wanted God to change things and things didn't change… but what I did come to understand in a far deeper way… God doesn't change.  He has been faithful and near and has held on to me as I've walked a very rocky path when all I could do was trust him, one step at a time.
The one thing you can do, whether your journey is a smooth one or a rocky one, is to trust God and believe.  Believe that he is who he says he is, believe that all his promises are true, believe he always has your best interest in mind and he loves you with his faithful everlasting love.
God has something wonderful planned for you.  More wonderful than you could ever imagine.
It is just as the Scriptures say, "What God has planned for people who love him is more than eyes have seen or ears have heard. It has never even entered our minds!" —1 Corinthians 2:9
Life is hard… God is good… and when you put your hope and trust in him alone… amazing things will happen.
Things that have never entered your mind!!
How blessed we are that God is not making us wait until heaven to see and experience some of what he has for us!

It's Joy Day!
On JoyDay! we look back over our past week and count.
Count the good and the not so good.   Just seven.
And we give thanks for it.  All of it.
I'll start…
I'm grateful God…
that you are a good, good God.
that your blessings are NOT bland and insignificant… but that your plans for those who love you are beyond anything we have ever thought.  
for Your work… healing and restoring me… body, soul, and mind.
for Your miraculous healing of our far-away friend.
for the plans You are helping me dream and flesh out.
for my thoughtful husband.  I feel so blessed.
for the power of Your Word and how I'm "seeing" it demolish strongholds.
Now it's your turn!
Scroll down to the "Share your Extraordinary Thoughts" box below and tap in your 'seven.'
When you do, you'll find the corners of your mouth turn up and the joy meter in your spirit rise.
Thank you for stopping by and leaving your sweet thoughts.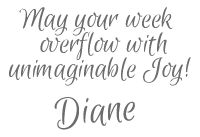 Receive FREE inspiration like this in your inbox!
Sign up Now