This past week was a bit challenging.
I could psychoanalyze it.
Or I could choose to look at the people and events through God's eyes.
To be honest… the former is much easier than the later.
You see I need to lay my pride down to do that.  I need to let go of my righteous indignation.  I need to let God's word and the Holy Spirit open my eyes not only to the situation… but to my heart.
And more than anything I need to let God transform my heart.
Create a clean heart in me, O God,
and renew a faithful spirit within me.
and provide me with a spirit of willing obedience.
We all have difficult people and challenging events in our lives.  Yes?
Right now, someone or something undoubtedly jumps into your thinking.
Hold that thought… but don't go meandering down the road with it.  That's dangerous.
Instead… take that thought captive.
Remember that God loves you and the individuals involved in your situation more than you can imagine.
Remember that God is not only our redeemer, but he is our restorer and rebuilder.
He takes the junk and unlovable people in our lives and transforms them into beauty.
I'm not suggesting that it's immediate and everything is hunky dory.
Instead, I'm suggesting that God will help us see people and events through his eyes and not ours.
He will give us compassion, love, patience, and perseverance… when we give it all up to him.  
If we hold on to it… chew on it… work it out in our heads… create different solutions… whatever… we are in dangerous territory.
It's not good for us… and even more… we prevent God from moving.
If you need God to move a mountain… you absolutely must get out of the way.
We have a piano, and like any piano it's a bear to move.  Whenever we move it around the house, we get out some very thin boards so that it will roll easily and not make lines on the wood floors.  My job is to pay attention to the movement of the piano and move the boards so my husband can keep the piano rolling.  At the same time I need to stay out of the way or I will immediately halt the process. This process works well for us.  But, I have to do my part correctly so Tim can keep the piano moving towards its new location.
I have an important part in the process… laying the boards down at the appropriate times. If I exercise my own agenda…  the piano doesn't move…. the floor gets marred… and our marital harmony is greatly diminished.
Just like it takes teamwork to move the piano… God won't move that mountain in your life unless you work with him. Stand in his way and nothing happens. Work with him. Lay down your pride, trust him, and be open to his love, direction, and discipline and you can expect to see God do something amazing…. beyond anything you can ask or imagine.
Who or what is your mountain?
Trust God to move it.  In his time and in his way.
Be ready to be hands-on or hands-off… but let him call the plays. He may or may not want you to be a part of the mountain-moving experience. Don't get in front of him. Wait for him to work. And above all… keep your eyes and ears attuned to him through his word.  And give thanks.  
I'm facing a couple of mountains right now.  This week I'm going to let God transform my heart so he can move those mountains.
How about you?
What are your mountains?
God's in the mountain-moving business.  He's ready and waiting to move yours.
It's JoyDay!
I'm so glad you're here to join me for JoyDay!  Taking time to share the good things God has done in our lives…  the good and the not-so-good… is one of the highlights of my week.
Will you join with me in counting 'seven' from the past week?
I'll start!
Thank you God for…
being my mountain mover
for loving the difficult people in my life
showing me how badly I need a heart transformation
friends who pray
wind and waves and beautiful shades of blue
precious hours with my husband
your faithfulness
Now it's your turn!
Please join me by tapping in your 'seven' in the 'share your extraordinary thoughts' section below. I dare you!
Thank you for stopping by and taking time to leave your sweet thoughts.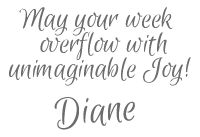 Receive FREE inspiration like this in your inbox!
Sign up Now.