It's Saturday night.
Our time to worship HIM.
Worship.  It's about Him.  It's not about me. 
The congregation sings a song I know so well.  A song I sang with the kids' worship team at my old church.
It seems that every other week lately we've been singing a song to which "my" kids and I made up motions and led a multitude of other children in singing worship to our great God.
"My" kids because I loved them (still do).   "My" kids, because we were a team.   A family.  We celebrated, cried, prayed, and had fun together.  We had the best of times every Wednesday night and Sunday morning.
As I stood in my new church, singing a song I often sang with "my" kids, I started moving my hands in the motions the kids and I made up for the song.    Memories began flooding my mind.  My heart hurt.
Later in the service we sang another song, Blessed be Your Name by Matt Redman.  
Here's the chorus:

Blessed be the name of the Lord
Blessed be Your name
Blessed be the name of the Lord
Blessed be Your glorious name

You give and take away
You give and take away
My heart will choose to say
Lord, blessed be Your name
My hurt heart broke as we sang the chorus.  I thought about "my" kids.  How blessed I was to work with them. To teach them about worship.  To help them grow in their faith journey.  To be a loving adult in their lives.
Eventually the kids would have grown out of that ministry and moved on.  It would have been natural.  But, we had an unplanned abrupt parting.  And it was difficult for all of us.  The words the congregation sang, "You give and take away," stung.  I was privileged to have had this ministry with such a terrific group of kids.  Truly a gift.  God didn't exactly take that away from me, but he didn't stop it from happening.
One thing I learned through that difficult process, "My heart will choose to say….Lord, blessed be Your name." Why?  Because though my heart still hurts, there is JOY in choosing to thank him for it and saying, "Lord, blessed be Your name."
Yes, there were a few tears and silent sobs.  I don't think that God wants to make the hurt go away.  He wants me to have a grateful heart for what I had.  He wants to me to bless his name, in other words, give him thanks.
John Piper writes, "So to bless God means to recognize his great richness, strength, and gracious bounty and to express our gratitude and delight in seeing and experiencing it."
Whatever our circumstances, we need to say, "Blessed be the name of the Lord."
There is another chorus to the song….

Every blessing You pour out I'll
Turn back to praise
And when the darkness closes in, Lord
Still I will say
Blessed be the name of the Lord
So here we are another Joy Day!  A time for us to give thanks.  To count our blessings.
To bless the Lord.  Even when He gives and takes away.
Can you, will you, say thanks for the hard thing, the wish-it-weren't-true thing of this past week?  Maybe it's something that happened some time ago.  Maybe giving God thanks for it will be the start of healing a wound or memory.  Will you?
Will you join me in counting it ALL?  The good and the not so good?
Here are just seven from my week:
Blueberries with real cream whipped
Basement cupboards
Poppy
Sonny's prayer
"My" kids
Endless weeds
A break in the heat
It's your turn.  Below – will you share seven?  Even just one?
Thank you for stopping by and taking time to leave your sweet thoughts.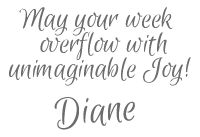 Receive FREE inspiration like this in your inbox!
Sign up Now
I'd be delighted if you'd share the goodness here with your friends.
Click any of the sharing buttons below.