Think outside the box to create your own home decor and learn how to make a pillow from a table runner. 
One of the simplest ways to "springify" your home, besides giving it a fresh cleaning, is to add some fun new spring decor.  Even better… make that new decor yourself.  If you can cut with scissors and thread a needle… you can handle this super easy DIY project!
When I was out shopping for my Easter table, some table runners beckoned me.  Goodness, they were cute.   One, in particular, caught my eye.  It was the sweetest bunny rabbit with a crown of flowers and a cute bow around her neck.    Here she is…
After browsing through the spring and Easter section at the store, I realized that at less than the price of ONE pillow, I could have TWO spring pillows from that one table runner. Saving money always makes my heart sing.  So, of course, I adopted those sweet bunnies, right there on the spot.  Chloe' will enjoy life as a sweet pillow for my loveseat and Chloe's twin sister… well… she will have her own story to tell very soon.
Let's talk about Chloe' for now.
Here's how she quickly and easily morphed from a table runner to a cute decorative lumbar pillow.  But, before I get into the "how-to's" I just want to make sure that if you choose to transform a table runner into a pillow that you choose a table runner that is lined on the backside.  That's the key to making this super EASY project.
How to Transform a Table Runner into a Pillow
Supplies
Let's Make a Pillow
To begin, measure the width of your table runner.
Because my runner was 16″ wide, I chose to use a pillow I already had on hand for the insert.  A travel pillow that was 14″ x 20."  It was a little bit wide, but because it was lightly stuffed it squeezed in just fine.  Generally, I use pillow inserts that are two inches wider on all sides than the pillow cover to give the pillow a nice plump look.
Since my pillow was 14″ high, I chose to cut my table runner at 12 1/2″ giving me a half inch salvage to fold in for sewing shut.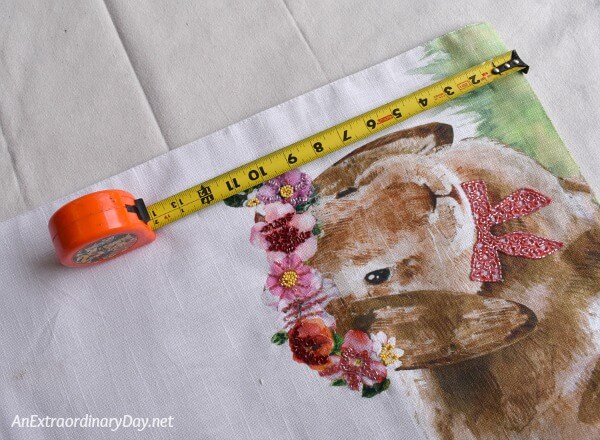 You'll want to make small marks with a pencil at the cutting point and then use a straight edge to draw a line for cutting and then cut along that line to create your pillow cover.
Slip your pillow insert into your new pillow cover.  Be very careful that you don't split the sides of the table runner.  If you want to play it safe, hand stitch the top corners to secure things.
Fold in the top of the unfinished pillow edges and with your pins, pin the top shut for sewing.
Hand sew across the top of the pillow with a simple slip stitch joining the two sides together.
Wasn't that easy?
You now have a lovely custom decorative seasonal pillow that YOU made and there are still projects ahead for the rest of your table runner.  Don't you love it?
Miss Chloe' is the perfect addition to my couch with the pretty jar of pink ranunculus nearby.
This year I'm using pink, definitely a new twist for me.  I'm glad I made the choice as it feels so warm and homey with all my blues and grays. Would you believe that I haven't used pink in home decor since I was about 5?  That's when I chose a pink wallpaper with ballerinas all over it for my bedroom.  That wallpaper stayed up WAY too long.  It wasn't until I was thirteen that my mom re-papered my room with my more adult choice of yellow and white plaid with white daisies sprinkled all over.  Isn't it funny how that pink wallpaper was enough pink to last a lifetime for me?  Have you ever made a decorating decision that's impacted all your future decorating decisions… good or bad?
Did you notice… on the bottom right side of the pillow there's a tag.  As I was setting the pillow on my loveseat, I discovered the sewn in tag that came on the table runner.  Just for fun, I left it there.  It's our little secret that comes with a question.  Did she really make that cute pillow? Only you and I will ever know.
Hope you're having a great week readying your home for spring and Easter.
Be sure to be watching to see how Chloe's twin makes an appearance in my home very soon….
Thanks for stopping by today!
If you enjoyed this post, please use the sharing buttons
to let your friends know and "pin it," too.

Receive FREE inspiration like this in your inbox!
Sign up Now.
More Ideas to Make Your Spring EXTRAORDINARY!
Spring Tablescaping ~ Bird's Nest Themed Easter Table
Easy to Make Open Faced Spring Asparagus, Hame & Gruyere Sandwich
Make an Easy Spring Dogwood Wreath for $3 in Just 30 Minutes
 Simple, Dramatic White Mantel for Spring with Color Pops
5 Quick and Easy Steps to Making a Spring Vignette
Frugal but Fabulous Elegant Spring Tablescape

Sharing with my friends over at Between Naps on the Porch