This morning I read this verse from 1 Corinthians and sort of felt like it was a slap in the face.
Love is very patient and kind, never jealous or envious, never boastful or proud, never haughty or selfish or rude. Love does not demand its own way. It is not irritable or touchy. It does not hold grudges and will hardly even notice when others do it wrong. 
As I think back over the past 24 hours I know I had moments of impatience, selfishness, envy, and pride.  I wanted my own way and though I probably didn't notice it, was probably irritable or touchy.  Grudge holding is not something I struggle with, but believe me, I DO notice when others do it wrong.  Oh, how I wish that wasn't the case.
How about you?
As you think back over the past 24 hours how did you do in light of 1 Corinthians 13:4-5?
Right now, in our culture, love seems to have gotten up and left town.  Continually I hear about friends leaving Facebook and how they are avoiding seeing their friends because of their different viewpoints. There has never been a time in my life where there has been so much division and disregard for another individual's point of view.  It makes my heart sad.
We will never change the world or the mind of someone else by shouting in person or online, by posting memes, or even commenting on various posts. Usually, there are hurt feelings on one side and heels dug in on the other side as a result of many of those exchanges.
Where is love in all this?  
We have an opportunity to choose love from the start of our day to the end of our day.
The best way to be more loving is to connect with the One who loves us best and has demonstrated true love… Jesus Christ.
We need to put on the mind of Christ so that we can think and behave in a loving and godly manner through our day.
If we don't plug into the Lord at the start of the day, it's like skipping breakfast.  We might start out fine… but in a few hours… we've tanked. Physically, mentally, emotionally.  Without food fuel, we aren't our best.  Without God fuel, we will find ourselves self-centered and not God-centered.
When we are God-centered our spirits, mind, and emotions are influenced by the One who IS love.
To be lovers of people we need to be plugged into the Ultimate Lover of people.
That one thing will make a difference in our day. 
If we make God our center and then choose to put on the mind of Christ and purposefully love others… our day will be incredibly better…. especially for the people around us.
We have the power to positively impact another person's day, simply because we've chosen God first.
It's not complicated.  But, it does require daily discipline.
The more faithful we are to plug in at the start of our day, the more power we will have to overcome evil with love.
 Love is very patient and kind, never jealous or envious, never boastful or proud, never haughty or selfish or rude. Love does not demand its own way. It is not irritable or touchy. It does not hold grudges and will hardly even notice when others do it wrong. 
When we live in God's power and strength and not our own, we naturally will be more patient and kind. We'll find contentment so that jealousy and envy are less of a struggle.  We won't be so self-centered, which means we won't think we're better than someone else and will be less inclined to be rude.  If we've wearing the mind of Christ, being touchy or irritable will diminish, as will holding grudges.  And hopefully… we won't notice the mistakes of others because we'll be seeing them through God's eyes.
Let's be honest with each other.
Every morning I do start my day with God.  Yet, I am not the loving person I would like to be or am designed to be. God is still working on me, guiding me, disciplining me, and loving me. This love thing is a process.  We know what it ultimately is supposed to look like.  Daily, relinquishing ourselves and giving up ourselves up for more of God.  It's something we can't stop doing.  We must press on… daily. We must make love our focus goal and loving others our goal.
Let's be God-lovers who in turn become great people-lovers.
Let's purpose today to live out love like this…
"'Love the Lord your God with all your heart, with all your soul, and with all your mind.' This is the greatest and most important commandment. The second is like it: 'Love your neighbor as you love yourself.'" 

It's JoyDay!
And time to get our joy meters soaring!
Please join me in thinking back over the past week and counting seven things for which you are thankful.  This simple exercise of counting and giving thanks together in this space is something we do each week to reset our compasses and put our eyes back on the Lord.
I'll start…
Thank you, God for…
Your love and the ultimate demonstration of this amazing love YOU have for each of us.
a productive week.
this unseasonable weather that feels more like March than February.
the opportunity to teach kids today, even if I was more than a bit rusty.
a wonderful evening with my friend.
my hardworking husband.
the reminder that if we will fill our hearts with your promises and blessings we can change the trajectory of our days.
Now…it's YOUR turn!
List your 'seven' in the 'share your extraordinary thoughts' section below.  You'll be glad you did.
Thank you for stopping by and leaving your sweet thoughts.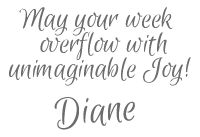 Receive FREE inspiration like this in your inbox!
Sign up Now. 
If you found this post helpful….please pass it on to your friends.