God is our refuge and strength,
an ever-present help in times of trouble.
Psalm 46:1
When my friends hurt… I hurt.
Today I have friends who have battened down the hatches, filled their bath tubs, and are waiting for Hurricane Irma.
Others who escaped to higher ground or other areas to wait.
I have another friend who has been betrayed by a person in her life that should always be counted on to be trustworthy.
There are the friends who are trying hard to make their marriage work and each day is a struggle.
I know people trying to figure out how to rebuild after Harvey.
And my neighbor kids are moving with their dad.  Yesterday it was clear across the country.  Today it's across the state.  And their mom is staying put.
It's hard stuff.
Often we hurt in silence and no one knows.
Except… God.
Today my little friend Thomas said, "God isn't real, is he?"
And I replied, "Thomas, just because we can't see God doesn't mean he isn't real.  Instead, we must know that he even more real than all that we know or see."
That's a hard concept for a seven-year-old.
Maybe even harder for a 37-year-old going through a storm.
That's when we need to trust.
And believe.
And hang on to these words from the Bible…
God is a safe place to hide,
    ready to help when we need him.
We stand fearless at the cliff-edge of doom,
    courageous in seastorm and earthquake,
Before the rush and roar of oceans,
    the tremors that shift mountains.
Jacob-wrestling God fights for us,
   God-of-Angel-Armies protects us.
Psalm 46:1-3
Take comfort, my friend, when you read these words…
You can go to him for protection.
    He will cover you like a bird spreading its wings over its babies.
    You can trust him to surround and protect you like a shield.
Psalm 91:4
This is such a tender thought.
God spreading his covering over us as if we were helpless.
Because we are.  Without HIM.
Take courage, my friend…
God is with you in the storm…
the one raging outside your window,
the one raging in your relationship,
the one raging in your heart.
You don't need to go it alone.
Allow yourself to be like the little birds who hunker down under the protection of their parent's wings.
Lean into God and let him be your comfort, your strength, your protector, your deliverer, and your sustainer.
And let your fears drop away.
He's with you and will never let you go.
It's JoyDay!
I know you want a heart filled with joy.  Please join me in thinking back over the past week and counting seven things for which you are thankful.  This simple exercise of counting and giving thanks together in this space is something we do each week to reset our compasses and put our eyes back on the Lord.
I'll start…
Thank you, God…
for a super fun evening out with one of my dearest friends.
for a sunny afternoon and a stroll in nature with the kids.
for sunflowers and all the fun I had putting together a tablescape and vignette.
for Tim's continued recovery from the shingles.
for your goodness and blessing in our lives for which we are so very grateful.
for the joy you've placed in my heart.
for being able to impart wisdom to a tween girl… please Lord… help her to remember when the testing comes.
Now…it's YOUR turn!
List your 'seven' in the 'share your extraordinary thoughts' section below.  You'll be glad you did.
Thank you for stopping by and leaving your sweet thoughts.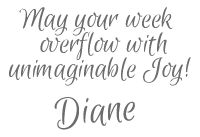 Receive FREE inspiration like this in your inbox!
Sign up Now. 
If you found this post helpful….please pass it on to your friends.